Oh (Tango In) Canada
By
Kristina
Back in January 2017, still reeling from our U.S. election results, I posted my intention to visit Canada, after a long absence, for a fresh perspective. In December, I finally made it to Victoria, B.C. on Vancouver Island, in two short flying hops from Bend via Seattle.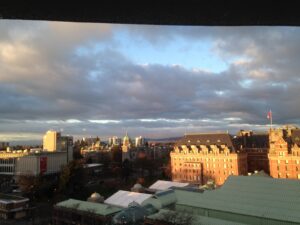 Like that friendly next-door neighbor who, despite being annoyed at your barking dog, still welcomes you in and offers coffee when you show up, Canada embraced my husband and me –– embraced us literally in an evening of tango at Cafe Casablanca (2524 Bridge Street, Victoria) with Tango Pacifico (www.tangopacifico.com). Distinguished Canadian author, David Gurr, was DJ that Friday, and a smooth lead in a community of impressive dancers. Cafe Casablanca's weekly milonga is well-worth the trip to the spectacularly beautiful island.
Other Victoria highlights: delicious vegan dining at "Be Love" (www.beloverestaurant.ca); the superb paintings of Emily Carr, who seemed to have channeled the soul of Vancouver Island's forests; and Munro's Books, where Alice Munro (yes, that Alice Munro) once tended the till, and a kindly employee offered us non-sectarian prayers for our country.