No Yang Without Yin
By
Kristina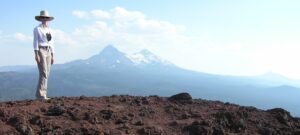 Nearly half a century ago I learned this crucial design principle: All emphasis is No Emphasis. If you paint an object bright red to stand out, don't set it against a bright red wall. The same applies in our lives, for high functioning we need down time in proportion to the energy burned in active mental/physical accomplishment. Certainly contemplation is as important as action in creative work,and much can go on while it appears "nothing is happening." There is no Yang without Yin.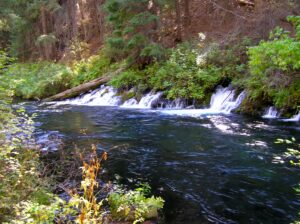 This summer my husband and I hiked steep rocky trails in the Central Oregon Cascades where the terrain is shaped by volcanic eruption and the potential for more lies in fiery restlessness beneath our feet. The sun that lured us here from Seattle in 1993 shone hot on the mountains. Yang bliss! But last Saturday I felt an early autumn craving for the Yin. Instead of going for elevation gain and spectacular panorama we walked five nearly level miles along the Metolius River, a slow walk because the river surging from underground streams stopped us again and again with its beauty – deep colors and clear depths, dark below incense cedars and vine maple, the opposite of lava rocks and fire. The river flowed through my dreams that night, and in the days since. I recommend it as a restful remedy for summer's "excess joy."
Qigong ("chee-kung") is, of course, always a powerful tool for finding balance, physical, emotional, and spiritual. This fall I'm offering custom-designed Qigong tutorials so you can "start where you are." The only props and abilities you need are a curious mind and a willingness to feel better, no matter how you feel right now. Call me at 541.390.9652 or email kristina@kristinabak.com to schedule a session or just to ask about Qigong.