Inspiration from the heART
By
Kristina
These late winter days, turning to the quiet inside, you may come face-to-face with unexpected sadness, sadness for present pain, past loss, betrayal, disappointment, and most of all, lost dreams.  Sadness is an honorable emotion, worth exploring on its own, but I promise you, dreams are never lost, only waiting to be rediscovered and transformed by your own brave creative exploration.  Let's thaw the ice dam in your heart, so that new inspiration, insight, and joy flow like a wild river.
Beginning April 6th, 2013, I'm offering Inspiration from the heART classes the first Saturday afternoon of each month, 1:00pm to 3:30pm, at my Westside Bend studio.  We'll warm up with gentle, heart-focused moving meditation, and go on to explore your dreams and hopes with paint on paper in a small group setting.  This process is a powerful way to expand your vision, stimulate creative thinking, and manifest your dreams in ways you can't yet imagine. No art experience is needed, and all materials are included in the $60 fee.
Also, warm thanks to the February Essence Qigong class participants for co-creating a rich day of learning for us all.  The class filled quickly, so please call or email soon to register for the March 23rd session.  (See my January and February blogs below for more details.)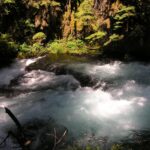 To learn more, or to register for either the March 23rd Chinese Essence Qigong class, or the April 6th Inspiration from the heART  class, call me at 541.390.9652 or email kristina@kristinabak.com.
And finally, a March daily practice reminder:
Every meeting is a holy event.  Always ask yourself, "How can I make this person's day better?"